Seazun

2005

Hometown: Lawrenceburg, IN

Years on Squad: 2

Occupation: Social Worker

Favorite Movie: The Notebook

Favorite TV Show: Animal Planet

Favorite Food: Pizza

Favorite Quote / Fun Fact about me: I have a family of 4 snow dogs (2005)

Fun Fact: The end of your travels will come when you end up where you started and know it for the first time.

Favorite Childhood Memory: Visit to the Hoover Dam with my family.

Advice for Kids/Teens: Treat others how you want to be treated and pursue an educational career.

Favorite Thing about Indy: The Colts!

More about Seazun Here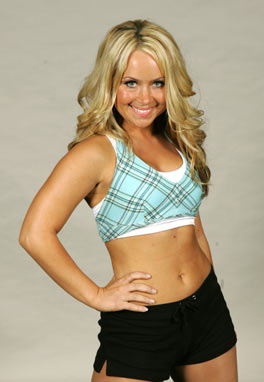 2005 tryout photo shoot
Pursuing a degree in Social Work from Northern Kentucky University, Seazun spent 4 years as a Cheerleader with the Cincinnati Bengals, supports no-kill animal shelters as her favorite cause, enjoys fashion, cars, and meteorology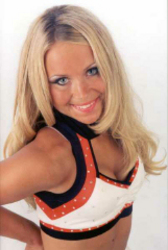 There's a serious meaning behind all the fun, glitz and glamor for Seazun Clark. A jarring personal loss, when boyfriend and former LHS football star Jesse Detmer was killed in a fall after attending the Brickyard 400 race at Indianapolis in August of 1996, still haunts.
"He's honestly the reason I took the path that I did," Clark said. "I was going to go cheerlead at Ball State that fall, but I never made it there. Instead, I went to UC. He gave me the strength to try out for the dance team, which was very intimidating at first. But it kind of turned out to be my destiny."
Clark leaned on her large, loving family and and good friends to get her through the tough times, as well.
Her advice to budding cheerleaders? "First of all, always stay optimistic. A lot of things can be intimidating. But always believe in yourself. If you do, you'll always have a good outcome."

Indianapolis Colts Cheerleader Team

The team consists of Kristie and Seazun competing for the title "Champions of the Sidelines" as the NFL's most complete cheerleading team.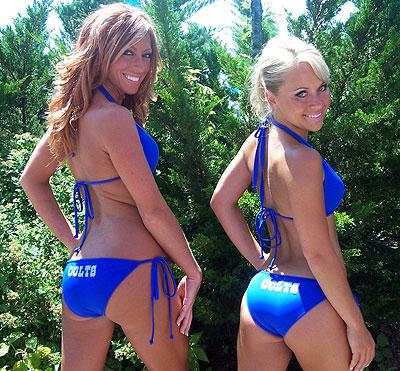 Name: Seazun
NFL Team: Indianapolis Colts
Career/Profession: Social Work
Favorite Football Position: Running Back, due to the explosive strength you must possess in order to break through the defensive line and gain yardage
Best thing about your team's fans? Colts fans bring a tremendous amount of energy on game day, which creates an exciting atmosphere and encourages the players.
What does it mean to be an NFL Cheerleader? Being an NFL Cheerleader not only allows me to pursue my passion for dance, but it also gives me the opportunity to meet women who share the same goals and aspirations. Cheering professionally also enables me to be involved with the community.
How did you and your teammate prepare for this competition? We mostly focused on practicing our dance routines and reviewing NFL trivia.
Why is your team going to win this competition? We both strive to be stellar in all aspects of our lives, and we work well as a team.
I wouldn't be who I am if it wasn't for... life experiences and my mother.
What was your motivation to get into cheerleading? Dance and cheerleading have always been a part of my life, so taking the step into professional cheerleading just seemed natural.
Favorite Childhood Memory: Visit to the Hoover Dam with family
Favorite Guilty Pleasure: Pizza
Something Very Few People Know About You: I have a family of four snow dogs.
My dream vacation would be... with loved ones on a tropical island.
First cheerleading squad you made? Lawrenceburg High School Cheer Squad
What song or type of music do you like to cheer or dance to? Hip-Hop and Rock
What are your goals or aspirations? To be happy in all aspects of my life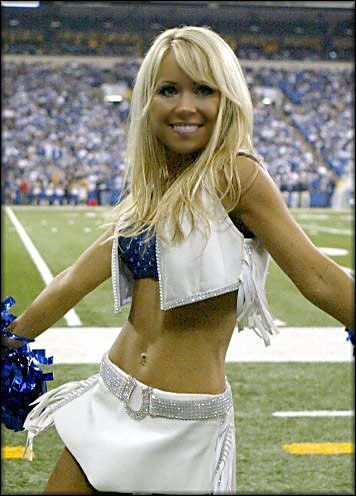 By Jim Buchberger
The Dearbron County Register
Somewhere on I-70, West Central Indiana - Indianapolis Colts football players were out in the Miami sun Wednesday, partying it up while preparing for Super Bowl XLI against the Chicago Bears Sunday night.
Meanwhile, Lawrenceburg's own Seazun Clark and several of her 29 sister Indianapolis Colts cheerleaders were driving west on frozen I-70, heading for yet another special guest appearance at an builders' association trade show in Terre Haute.
"We've had our highs and lows this year," said Clark, 28, whose outlook remains as sunny as South Beach.
"The past two years everyone has picked the Colts to win it. It looked bad for us for awhile there in December, but, in the end, we pulled it off. I'm still in a bit of shock, actually."
It wasn't all glitz and glamour yet early this week for the vivacious Clark, now in her sixth season as an NFL cheerleader.
But things were expected to change after today (Thursday) at noon, when Clark - a 1996 Lawrenceburg High School graduate and social work bachelor's degree holder from Northern Kentucky University - and her fellow cheerleaders are scheduled to fly south from Indianapolis International Airport for the big-game bedlam that's sure to await in Miami.
"We really don't know what to expect because we don't get our itineraries until we land in Miami," said the personable 5'2" former Miss Pro Bowl, 2003 - recently named one of several Colts cheerleading team captains - whose e-mail address once reflected her favorite old Elton John tune, "Tiny Dancer."
Colts cheerleaders are a little clearer on their game day duties. "The NFL actually sent us a CD last week," Clark noted. "Our dance routines have been preset. Since it's supposed to be a neutral site, we and the Bears cheerleaders will be split up, 15 girls in each of the four corners of the field. That's pretty much all we know right now."
One question that several excited Colts cheerleaders asked well in advance of departing for the Super Bowl resulted in a negative reply.
"We asked if we were going to get to perform with (R & B artist) Prince during the halftime show," Clark noted. "Unfortunately, the answer they gave us was no."
Still, there's bound to be plenty of fun in the sun the rest of this Super Bowl week for the gals. First on the agenda was a big welcome party, thrown by the Colts organization, as soon as the cheerleaders de-plane in Miami later this afternoon.
"We've been told to take our uniforms along in our carry-ons so we can change on the plane," Clark said. "We have to be ready to go the minute we hit the ground."
That type of jet-set lifestyle is becoming more and more accustomed for the Lawrenceburg native, who commuted most of this season from her Ohio River hometown.
With two cheerleading practices per week as a rule, plus a conservatively estimated 25 promotional appearances around the Hoosier State, and elsewhere, Clark has been a gal on the go since last April, when serious preparations for the 2006 season began.
"I'm doing fine with it," she said. "We really do a lot of appearances. It's my second year with the Colts (after serving as a Cincinnati Ben-Gal from 1999-2002, including squad captain and voluntary choreographer duties), so I've adapted to all the running pretty well. My goodness, this has been a very involved year."
Helping ease the travel burden, Seazun has been able to stay with aunt Shannon (Weber) Ambs, an Indy resident, when practice and appearance dates collided too closely.
The highlight of her 2006-07 season so far, Clark says - not including Sunday's Super Bowl - was her second trip to the Far East representing the NFL in December, during a two-week road schedule for the Colts.
Clark, who previously traveled to Tokyo for a week for the American Bowl preseason game, with the Colts playing the Atlanta Falcons in August of 2005, was one of 12 Colts cheerleaders selected for an Armed Forces Tour this time.
"We visited six different military bases in Japan and two more in Hawaii," she said. "It was set up so that we didn't miss a home game. We were part of a tour that included cheerleaders from the Falcons and Dolphins, rotating among the different U.S. camps. The military people always treat you like big stars from back in the states. It was a lot of fun."
Just this past August, Clark was chosen along with friend and teammate Kristie to represent Indy in the inaugural Battle of the NFL Cheerleaders.
Sunday is sure to be a big day for Seazun Clark and her extended Lawrenceburg family, as well. Mom Tracey Smith, another former Lawrenceburg Tiger cheerleader, and grandparents Sharon Clark and Kermit and Barb Weber all will watch the game on TV, trying to spot their favorite blonde cheerleader on the sidelines.
Seazun, who took a year off of from cheerleading in between her Cincinnati and Indianapolis career to finish her social work degree at NKU, may be looking at a permanent move to the Circle City in the future. She's interviewed with an Indianapolis-based company recently in hopes of putting her college degree to work.
But dancing always will remain Clark's first love, from her early days up through a stint with the talented hip-hop group named Fully Loaded, which opened for artists such as Marcus Houston, Clypse, and Loon. They won first prize at the world-renowned Showtime at the Apollo.
"Being a small-town girl, it's been great just to have experiences like this," said Clark, who's referred to in the Colts press material as a "Sweetheart of the Horseshoe."
An animal rights activist who, naturally, has a family of four snow dogs named Stormy, Lexi, Trooper, and Nali, Seazun still attributes her success to a strong, supportive family and mom Tracey, her symbol of strength and courage.
As for the Super Bowl, she says: "It's the pinnacle of every NFL player's career, not to mention every cheerleader's, too."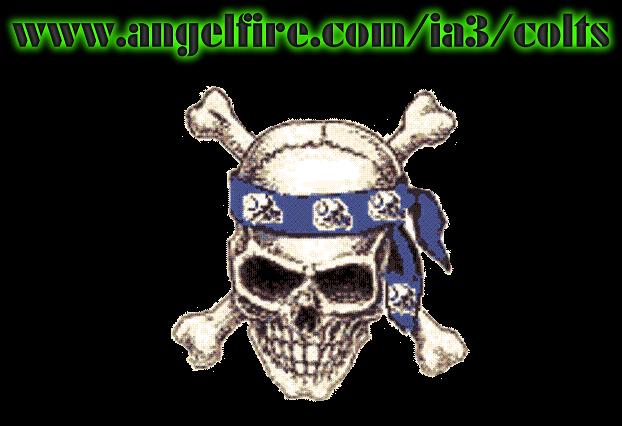 Copyright ©2001-04
This site is a fan based site dedicated to the Indianapolis Colts and its fans, and is not associated with the Indianapolis Colts, the National Football League, or any other media site.
All pictures and logos, team names are property of the National Football League.
This site is maintained for research purposes only.
Please direct website comments
or questions to webmaster