Krystal

2006


2005

Hometown: Valparaiso, IN

Years on Squad: 2nd

Occupation: Make-up Artist

Favorite Quote / Fun Fact about me:
Everything happens for a reason

Favorite Movie: Pretty Women

Favorite TV Show: Real World

Favorite Food: Chicken Alfredo

Fun Fact: Everything happens for a reason; it can only get better.

Favorite Childhood Memory: going to my grandparents house

Advice for Kids/Teens: Respect your parents.

Favorite Thing about Indy: The Colts


2005 tryout photo shoot
Cheerleader lives her dreams, cheers for Colts
January 27, 2007
By Danielle Braff
Post-Tribune
Like most children, Krystal Turley had big dreams. She would work really hard at gymnastics and dancing, and she would grow up to be a cheerleader for her favorite football team, the Indianapolis Colts.
ter a month of auditions, Turley was accepted to be a Colts cheerleader. The problem, however, was that she was still living in Northwest Indiana, and the commute was unbearable. After one year, Turley quit the team.
"I missed it so much that I had to come back and try out again," she said. Once again, Turley was invited back into the ranks, and she hasn't regretted her decision ever again.
Cheerleading choreographer April Smith said Turley's moves showed her dedication to the sport.
"She was just so dedicated to the program that by making the decision to come back just showed her dedication to the team."
What most people don't realize about the cheerleaders is, that unlike the football players, cheering is not a full-time job. Their pay is minimal, and each woman is required to either be in school or have a job in addition to their biweekly cheerleading practice.
Turley works in downtown Indianapolis as a makeup artist and business manager, and she enjoys having a normal day job and an unreal part-time job.
Life as a cheerleader is different than cheerleading portrayed in the movies, she said. The Colts cheerleaders are not allowed to fraternize with the football players, so no, she's not dating any of the Colts players.
And the cheerleaders are a nice, friendly bunch, Turley said.
"We all have different personalities, and we are well-rounded girls. Everybody outside of cheerleading think of us as stuck up, but just being in it and knowing the girls, they're all sweet and they're all very nice. We get along so well together."
Turley said the cheerleaders are going over their routines that they've learned throughout the season in preparation for the big game. She's not nervous, and she still loves the feeling she gets when she walks out onto the stadium.
"It is amazing, breathtaking," Turley said. "It's like you go out there and all you hear is the crowd, the fans yelling and screaming. I'm so honored."
Turley gets to bring one person to the Super Bowl with her. .
Her father is the lucky chosen one.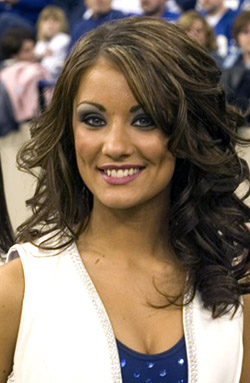 Cheering for the Colts
Boone Grove High School grad on cheerleading squad
By Annette Arnold
January 20, 2007
nwitimes.com
Krystal Turley will be cheering for the Colts on Sunday -- not from her living room, but from the sidelines.
The 23-year-old Boone Grove High School graduate is an Indianapolis Colts cheerleader and will perform as the Colts host the New England Patriots in the AFC Championship game.
Turley, who has been a Colts cheerleader for three years, wasn't a cheerleader in high school.
"I was on the dance team at Boone Grove High School but knew nothing about football because we didn't have a football team there," said Turley, who is the daughter of Valparaiso residents Karen and Robert Turley. "So when I tried out, my dad coached me about football because we had to take a quiz."
She loves performing at the games and said there's more to being a Sweetheart of the Horseshoe than just learning and performing routines.
"They look at the skills you possess, how the public sees you, and they want to make sure you are a people person," said Turley, who is a full-time makeup artist for Chanel. "Not too many people get to do something like this."
Turley won't make a prediction about Sunday's game but she would love to see the Colts and Bears in the Super Bowl.
"We are so pumped up and excited about the game," Turley said. "The fans in Indianapolis are so amazing. There is blue everywhere."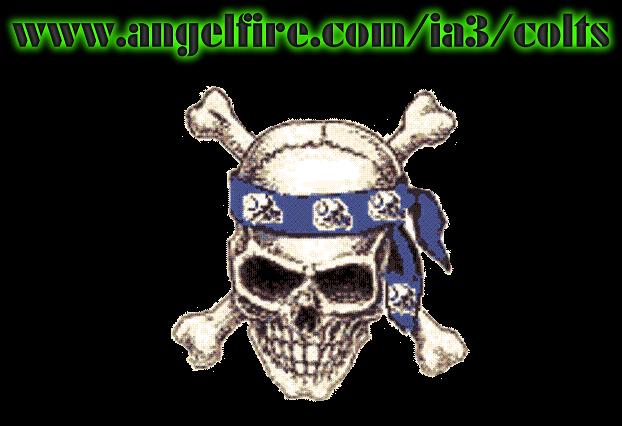 Copyright ©2001-04
This site is a fan based site dedicated to the Indianapolis Colts and its fans, and is not associated with the Indianapolis Colts, the National Football League, or any other media site.
All pictures and logos, team names are property of the National Football League.
This site is maintained for research purposes only.
Please direct website comments
or questions to webmaster