Brittany

2006

Hometown: Winchester, IN

Years on Squad: 1

Occupation: Photographer Owner of Photos by Brittany

Fun Fact: I love racing!

Favorite Childhood Memory: Playing at my grandparents farm

Advice for Kids/Teens: Treat others as you would want to be treated.

Favorite Thing about Indy: Colts

Favorite Quote / Fun Fact about me:

Always treat others as you want to be treated!

Favorite Movie: Dirty Dancing

Favorite TV Show: Roseanne

Favorite Food: Ultimate Feast from Red Lobster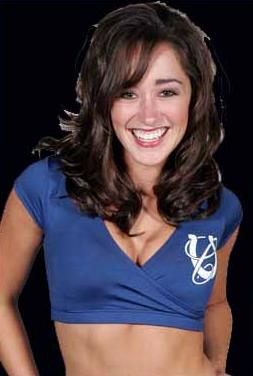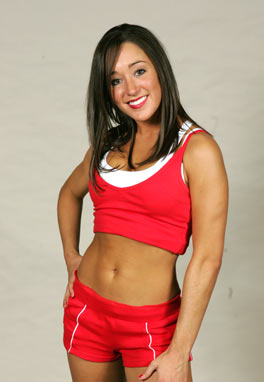 2005 2005 tryout photo shoot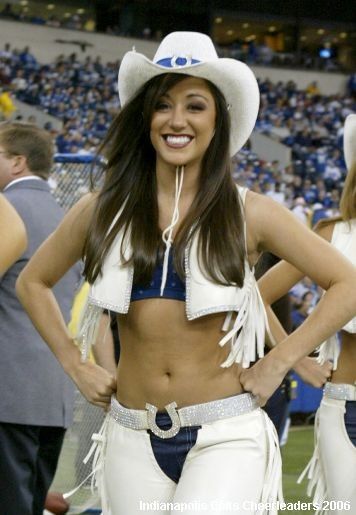 Brittany Wolfe of Winchester
Wolfe is a second-year member of the Colts cheerleading squad, getting in front of 60,000 fans every home game of the season. Of 300 to 400 girls who tried out, Wolfe earned a spot on the 30-member squad.
"It's amazing to get out there," Wolfe said, "and the fans are so into the game."
Wolfe says she loves the fans and if she were to describe them in one word, she would say, "dedicated." Although she thinks the fans have dedication, Wolfe herself is the picture of dedication.
Wolfe is a part-time bank teller and she also owns and runs her own photography studio called Photos By Brittany.
For cheerleading squad practices, she endures the drive to Indy two times a week for three hours each time during the entire football season.
On top of practices and games, Colts cheerleaders are required to make 15 appearances some of which include events and charity functions throughout the state of Indiana and events that Wolfe refers to as "meet and greets."
Wolfe's dedication has paid off; she was named Colts cheerleader of the week during the final week of November.
In high school, Wolfe was a four-year member of Winchester Community High School's cheerleading squad. She was on the school's competition squad when it won two state championships and one national championship.
"After high school I thought, 'This was it . . .
cheerleading's over,'" she said.
That was not the case. Her dad told her that he had seen that there were tryouts for the Colts cheerleaders, and he told her that he thought she should try out.
Wolfe listened to her dad and went to Indianapolis for the clinics, but she didn't stay.
"I just went up and checked it out, got a feel for it."
The next year, Wolfe returned and was ready for action this time.
She went through the clinics and final tryout, and came out on top.
Now, as a member of the squad, Wolfe recognizes the differences in cheering in high school and being a cheerleader for a professional sport.
"High school was really hard with the stunting and tumbling and Colts cheerleading is more dance skill."
For people who don't know cheerleading lingo, stunting is when a cheerleader lifts another cheerleader into a "stunt" and tumbling is essentially gymnastics.
In Wolfe's opinion the stunting and tumbling involved in high school cheerleading definitely makes it harder than Colts cheerleading skill-wise.
For those who wonder if professional football cheerleading is really how it is depicted in the Country Music Television reality show "Dallas Cowboys Cheerleaders: Making the Team," Wolfe says the answer is yes and no.
Wolfe said there are similarities, but it's definitely not exactly that way.
"They aren't as hard on the girls here, but I think part of it's just the whole TV thing," she said.
Wolfe doesn't know for sure how long she plans on staying a Colts cheerleader, she said, "I usually don't know until about March if I'm going to try out."
Among her considerations each year is the long drive to and from Indianapolis.
One thing is for sure, this is an experience that Wolfe won't forget. She has made friends and memories with her time on the squad.
"I love it, it's not all sweet, but it's all worth it," she said.
Friday, December 29, 2006
Wolfe in Colts Clothing
Posted by James at 11:52 AM ET
By Sarah Owens
The Palladium-Item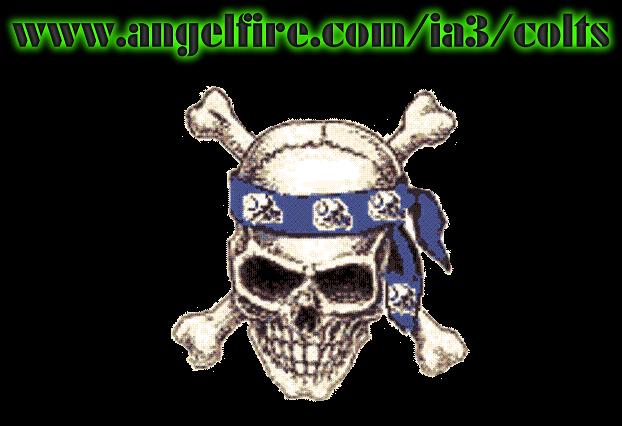 Copyright ©2001-04
This site is a fan based site dedicated to the Indianapolis Colts and its fans, and is not associated with the Indianapolis Colts, the National Football League, or any other media site.
All pictures and logos, team names are property of the National Football League.
This site is maintained for research purposes only.
Please direct website comments
or questions to webmaster