Hometown: Indianapolis, IN
Years on Squad: 4
Occupation: Public Health Educator
Favorite Quote / Fun Fact about me:
Proverbs 3:5-6
Favorite Movie: Best Man
Favorite TV Show: The Simpsons
Favorite Food: Strawberries
Fun Fact: I've sang for Ray Charles.
Make it Personal!
Favorite Childhood Memory: Easter Sunday's
Advice for Kids/Teens: Never give up!
Favorite Thing about Indy: Colts!
Pro Bowl
Each year, one squad member from every NFL team is chosen to participate in the collective Pro Bowl cheerleading squad. Traditionally, this is the highest honor of talent and popularity an NFL cheerleader can receive.
2006 Pro Bowl Cheerleading Squad
Brandi Jones, Indianapolis Colts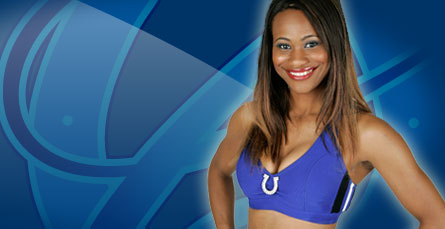 Wednesday, December 6, 2006
CHEERLEADER OF THE WEEK:
By Colts Cheerleading - Colts.com
Brandi, Veteran
This is Brandi's sixth season with the Indianapolis Colts. Born and raised in Indianapolis, Indiana, Brandi was a cheerleader for Ben Davis High School and has earned a Bachelor of Science degree in Public Health and Minor in Dietetics/Nutrition from Indiana University. Brandi comes from a talented family background of musicians and athletes. Alongside her sister, they sing and perform at many events such as weddings, birthdays and other special occasions. Brandi also has two brothers who are musicians; one is currently touring in London, England.
This year with the Indianapolis Colts, Brandi was selected as a 2006 Pro Bowl Cheerleader. In the past, she sang the National Anthem at a Monday Night Football game as well as opening for Ray Charles at Indiana University in Bloomington. She says, "Opening for Ray was one of my most precious experiences." Brandi's experience as a Colts Cheerleader has been amazing. It has not only helped her to grow athletically, but also mentally, emotionally, and professionally. Brandi is so grateful to be a part of such a wonderful organization.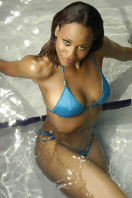 2005 Bikini Layout
Click to enlarge