2003
Indianapolis Colts
Cheerleaders
Christa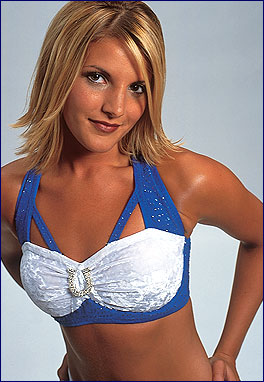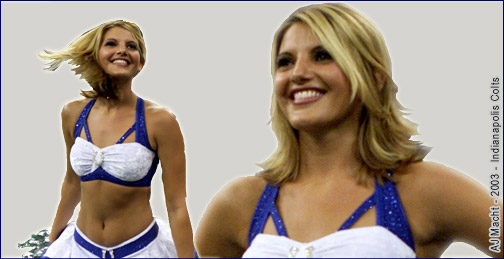 Friday, September 5, 2003
COLTS CHEERLEADER OF THE WEEK:
Christa
By John Oehser - Colts.com
Years with Colts: One.
How I became a Colts Cheerleader . . .

I taught dance for six years and my boss was a Colts Cheerleader for a year a while back. She encouraged me to do it, plus I wanted to do it because my dad has been a season-ticket holder for 11 years. We're big Colts fans. I thought it would be a good way to work out. Dancing - what's better?
What's the best thing about being a Colts Cheerleader?

It's a great way to meet people. It's neat. People come up to you and you get so much respect - because you're a Colts Cheerleader. They know who you are and talk to you. I love talking to people, so that's great.
Why did you become a Colts Cheerleader?

Performing. In high school, I was in guard and cheerleading. I loved performing in front of people and I love dancing. This just seemed like the next step.
Who's your role model and why?

My mother. She owns a countertop business, so she kind of has a man's job and she proves she can do that. I like that she does that for her career, and I look up to her.
What do you anticipate your first game being like?

I think I'll be really nervous, but it will be exciting. I performed at the RCA Dome before, being in guard. We did band competitions there, so I know what it's about, but it's exciting and I'll be overwhelmed.
Personal Motto . . .

Always Smile. If things are hard, people won't know it if you're smiling. Your day will go easier, too, if you're smiling.
My best asset is . . .

My personality. I'm a people person. I love to talk to people.
Person I'd most like to meet and why . . .

Julia Roberts. She's such an inspiring actress. I love all the work she does, and that's something I'd like to do. I've done modeling, and I'd like to do acting. She's great and I think she does great work, so I'd love to talk to her.
How will being a Colts Cheerleader enhance different aspects of your career/personal life?

Already, my life has been a lot better. I was in such a rut after high school. I graduated two years ago and didn't know what I wanted to do. I was sick of college. I want to have fun with my life before I settle down and get married.
Best advice received and how did it change you?

Always Be Optimistic. You never know how things will turn out until you try. You can't go through life saying, 'Oh, I'm worried about this. How will this work out.' Be optimistic.
I'm proud to be . . . .

A role model.
Advice for kids . . .

Try Your Hardest. Anything's possible.
If I won the lottery, I would . . .

I'd spend on myself, because you have to. I'd give some to family and some to charity. Mostly, I'd have fun with it, though.
Future goal and why . . .

Get through school. I want to be an elementary school teacher. I just love kids and I want to be a great teacher. Kids are so important and teachers can have such an impact on kids. My goal is to be a good teacher.
What charitable organizations have you enjoyed working with?

Special Olympics.
What's it like juggling life with being a Colts Cheerleader?

It's fairly easy, because it's something I enjoy. It's not a hassle. It's not a job. Coming to practice two or three times a week doesn't bother me, because I enjoy it.
In five years, I would like to be . . .

Through with college and a man in sight to marry.
Favorite movie

How to Lose a Guy in 10 Days.
Favorite actor/actress

Julia Roberts.
Favorite band/artist.

Mariah Carey.