Early Cheerleaders Still Feel Colts Tug
Sunday, January 14, 2007
By Mike Klingaman
Balitmore Sun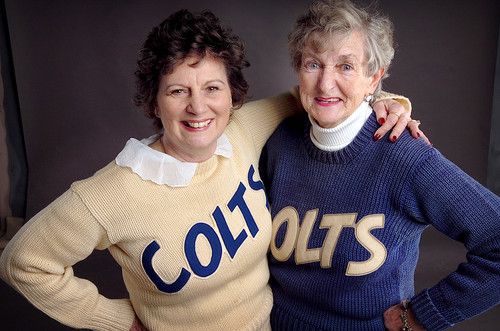 Phyllis Meyers Rubino (left) cheered for the Colts from 1959-1970, and Eleanor Dudley cheered from 1956 to 1966.
There is a Ravens pennant on her porch and a Ravens doll on her front door. But what's in Rosemary Baldwin's heart?
Baldwin is a former Colts cheerleader. For 13 years she rooted them on from the sidelines, in rain and snow and boot-sucking mud. At 66, she remembers the jumps, shouts and kicks that trumpeted Baltimore to NFL championships in 1958 and '59. Her faded Colts outfit lies, folded carefully, in a cedar chest in her home in Federal Hill.
Hence her conflict this afternoon when the Ravens host Indianapolis in an AFC divisional playoff game.
"I'd hoped this day would never come," Baldwin said of the first playoff between the clubs. "It's going to hurt, but I have to root for the Ravens.
"It's heartbreaking, rooting against my Colts. It's hard to look at the blue-and-white uniforms and cheer against them.
"They'll always be in my heart."
While many Baltimoreans have come to terms with the Colts' departure 23 years ago, a number of the team's former cheerleaders feel the tug of the horseshoe.
"It's going to be a roller coaster ride for me," said Thelma Mack, 72, of Reisterstown. In 1954, she helped organize and lead the Colts' cheerleaders, the first such group to perform in the NFL.
Mack, 72, is recovering at home from hip surgery. She said she'll muster up "some yays and some boos," though she won't say for whom.
At 69, Eleanor Dudley can still wear the Colts' sweater she donned for 11 years, starting in 1956. And while she sides with the Ravens - "I'm so ashamed the Colts' owner snuck them out of here the way he did" - Dudley won't completely turn her back on the team she grew up with.
"I will wear my old Colts' sweater, just to aggravate my family," said Dudley, who lives in Arbutus. "Nobody would dare to punch me in my own house."
Of the 11 former Colts cheerleaders contacted by The Sun, all have saved their uniforms.
Baldwin said she has been offered $20,000 for her Sunday best.
"It's not for sale," she said. "That outfit represents 13 of the best years of my life."
Mim-Mi Cholewczynski, 73, keeps her outfit tucked in a box in the attic of her Owings Mills home.
Phyllis Meyers Rubino framed the blue sweater, which hangs in the basement of her house in Forest Hill.
"The first game I cheered was the 1959 championship," said Rubino, 65. "I had the sweater on that day when I left my house in Greektown for the game."
Suddenly, Newkirk Street thundered with applause as neighbors lining the sidewalk cheered the 18-year-old bound for the stadium.
"I felt like a bride going to her wedding," Rubino said.
Many of those early cheerleaders hailed from Patterson Park High, whose school colors were also blue and white. After graduation in 1954, Patricia "Pinky" Brodowski cheered the Colts on for eight years, until motherhood intervened.
Relinquishing the sidelines wasn't easy.
"My first game sitting in the stands, I wore sunglasses because I cried and cried," said Brodowski, 71, of Rosedale.
She keeps her cheerleader uniform in a garment bag. As for the sweater, she wore it to honor the Colts at the last baseball game played at Memorial Stadium in 1991.
Every so often, Barbara "Babs" Kroger, 69, drags out of storage her 1955 uniform - the short blue skirt, the white boots, the cowboy hat "to make sure it's still OK."
Back then, Kroger said, cheerleaders bought their own clothes, made their own pompoms, built their own placards. The Colts paid their travel expenses and gave them two tickets to every game.
(Rubino said her husband "had the idea to plan the birth of our two sons for July and August, so I could keep cheering and we'd keep getting those tickets.")
The cheerleaders practiced their routines in Druid Hill Park, on a field behind the reptile house at the zoo.
On frosty Sundays, the cheerleaders lined their boots with plastic bags to warm their feet. Once, on a trip to Cleveland, they found themselves changing into their uniforms in the back of a bus.
"We did it all because we believed in the Colts, not because our careers would be enhanced by it," said Kroger, of Hanover, Pa.
Though she'll back the Ravens today, Kroger "won't be upset" if the Colts win.
"You never forget your first husband," she said.
Sometimes, when no one's around, Connie Cavallaro Banashak plays the scratchy old tape recording of the Baltimore Colts' fight song and cheers up a storm in her Cockeysville home.
"I do as many of the routines as I can remember," said Banashak, 65. "I don't kick as high as I once did, but I try my best."
A cheerleader from 1963 to 1969, she once worked the sidelines while six months pregnant.
No problem, Banashak said: "My obstetrician had season tickets and was there in the stands."
On a shelf in her bedroom, there are photos of her teammates as well as a Barbie doll dressed as a Colts cheerleader.
"I will never get over thrill of marching down the field in front of 60,000 people as the band played that song," Banashak said.
"That was my proudest moment.
"I'm not loyal to the Indianapolis blue and white. But the Baltimore Colts, I'll always be loyal to."
Copyright ©2001-07
This website is an unofficial source of news and information continually updated from thousands of sources around the net. A fan based site dedicated to the Indianapolis Colts and its fans and is not associated with the Indianapolis Colts, the National Football League, any school, team or league or any other media site.
All images are the intellectual properties of their respective owners.
This site is maintained for research purposes only.
Please direct website comments
or questions to
webmaster
Get all the very latest COLTS information updated daily . . .
Get the latest Colts News and NFL News from Allsports.com . . .
Check out who is hurt from The Colts and the Opposing Team
and learn who won't be playing in this weekends game at the Injury Report page . .

Updated continuously
with
Stats, NFL Standings, photos, wallpaper, Colts Cheerleaders
and other Colts issues
If you find a broken link or a photo that doesn't show, please send us an e-mail; we'll get it fixed as soon as we can.